WIM's MISSION IS TO MAKE HEALTH WORKFORCE DATA USEFUL AND ACCESSIBLE. WIM DATA NOW POWERS THE BRIGHT APP – A PUBLIC FACING MENTAL HEALTH DIRECTORY.
HEALTH WORKFORCE
RESEARCH & DATA

WYOMING IDAHO MONTANA
WIM Tracking is a health workforce research company. By proactively seeking changes in the Wyoming, Idaho and Montana health workforce, WIM is able to provide reliable data to organizations across the region.
The WIM Datahub makes workforce data useful and accessible through its online directory, workforce reports and GIS mapping. The datahub is utilized by state agencies, local non-profits, healthcare facilities, grant writers, resource guide developers and workforce researchers.
| TYPES | WY | ID | MT |
| --- | --- | --- | --- |
| APRNs | | | |
| MDs & DOs | | | |
| PAs | | | |
| Dentists | | | |
| Psych. | | | |
| LCPCs & LACs | | | |
ONLINE DATAHUB
WIM has made provider workforce data useful. WIM's online datahub is complete with healthcare provider and practice data.  Easily search the datahub and download an Excel list of physicians, print a directory or export a map.
Upload provider data into your EHR system or online provider directory
Find data relevant for your grant proposal
Query the database and download a mailing list
Post informative provider distribution maps on your website or social media
THE BRIGHT APP
WIM created a no cost, public facing behavioral health care directory called The Bright App. The public can search for a mental health care provider directly from thebrightapp.org. What's more, organizations across Montana can place The Bright App on their website to stream the directory live for their website visitors. Through The Bright App, people will be connected with the mental health resources they need.
CONTRACT SERVICES
WIM offers contractual services as they relate to health workforce data. Organizations can hire WIM to build customized reports, complete provider surveys, prepare data for workforce reporting and for many other projects. Check out WIM's current and past projects.
Past WIM Projects Include:
Montana Dentist Data Collection for HPSAs
Montana Psychiatrist Data Collection for HPSAs
Montana Dental Health Workforce Assessment
Maps and Data for Montana Health Workforce Strategic Plan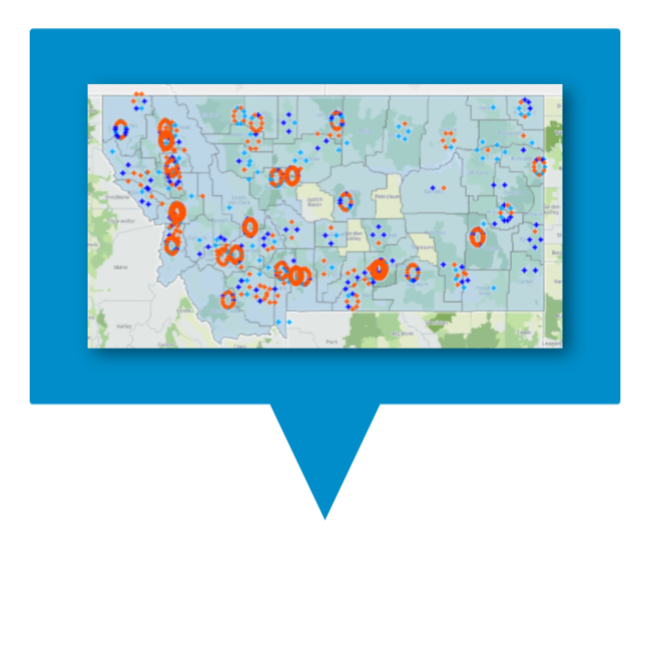 Find a Conference Speaker
PROVIDER MAILING LISTS
WIM offers organizations access to it's provider data in the form of a mailing list download. WIM actively maintains its provider database and only includes provider that are known to be actively practicing in Montana. Save money on postage with the WIM provider data lists as retired, inactive and out of state providers are not included. You can order the list based on provider type or request a custom list to narrow your list by provider specialty or location.